I recently made a decision to enter the Student Government election at my university, as a presidential candidate. Though I did not win, I feel that the experience was much needed for my personal growth. So, I decided to share my story to inspire someone in a similar position.
Here is a quick backstory on my life in school politics:
I have been active in school for as long as I can remember. I think I actually started getting into extra curricular activities around 4th grade. I was an awarded band member, art scholarship recipient, and my school's Beta president by 6th grade. Approaching Junior High, I was still a relatively shy student. However, I made the conscious decision to push the envelope and run for a position in Student Council, as a representative. I actually won the election with several others and became a Beta Member.
I juggled these two organizations, along with being an Honors/Gifted & Talented student, Jr. National Honor Society Member and Marching / Symphonic band member. This pretty much was where majority of my time was spent until the 9th grade, when I actually decided to run for a specific office, representing my class as the first official Class President our Junior High had ever had.
I kept my positions in the other organizations while I was in office. However, me winning that particular position changed my perspective on school involvement. I definitely think that my role as Class President impacted the standard that I hold myself to and set the tone for the rest of my grade school career. I entered into high school and put my name on the ballot for reelection every year, where I never ran unopposed, and won each time. During my time in high school, I often thought it'd be nice to walk on as President, at least once. However, looking back, I thank all those who ran against me because it forced me to always see myself as the underdog and run as if it were the first time every time.
Atop my position as Class President, I was an active Student Council member and chair. I was a Key Club Member, Beta Member, National Honor Society Member and Chair, Band Section Leader, and Color Guard Member of one year. This involvement led me to opportunities to represent my school in leadership conferences, such as Girls State, serve as a Homecoming Maid, and be crowned Tableau Queen. All these things were a juggling act that I enjoyed being a part of. However, there was something about my position as Class President that brought me the most joy. I just loved the job itself and I loved the fact that I was in this position because I had the trust and respect of the greater majority of my peers!
Fast-forward to college, I lost that sense of urgency. I kept my grades up because I attend my university on a full scholarship. However, I lost that sense of school spirit, that sense of involvement. So, I joined Student Government Association in the Fall of my second year. I immediately started to feel that old sense of self coming back to me, but something still was missing. My campus wasn't as enthused and spirited as most and that was discouraging for someone like myself, coming from both a high school and junior high school with high student morale. -Even the elementary schools that I attended had outstanding morale! 
Coming into the university, I had all these bright ideas and plans for how I could impact the campus and boost student participation. I even felt, at one point, that my reasoning for being at the university was just that. I was here to bring that morale boost to the campus. In contrast to my thinking, I found that I wasn't seeing the unity and enthusiasm that I thought to be present at the university.  As years went by, my expectations for the campus community dwindled down. I drifted into a content indifference, where the campus community was concerned. Being a Senior, at this point, I had lost all hope for bringing that change to my university.
With the encouragement and reassurance of friends and family, however, I found myself petitioning to become our SGA President. I went into this race, knowing my credentials and what I was up against. I am a numbers person, so I had worked the figures repeatedly in my mind as to where I stood in terms of winning the race.
Being at a predominantly white institute in a smaller area, the likelihood of me winning was slim.
However, something kept pushing me toward entering although the odds weren't in my favor and I could not identify why.
Campaign Week is what served as the eye-opener, for me. In the four years I had been at the university, I had never seen such positive reception and awareness of an election. There were groups, I didn't know existed on my college campus. The support was phenomenal and honestly, I have no words for the amount of enjoyment I got out of that week! Giving speeches and having young, black girls of lower classification telling me that I inspired them had me beyond words.
At the end of my campaign, once they announced the winners, I did not feel a loss because the triumph was in what I saw during Campaign Week. Then, I thought about that thing that was pushing me toward entering the election and it hit me. I was not supposed to win, but I was supposed to be the precursor to someone else's win in the future and boost awareness that there were more strong leaders on this campus than what was presented.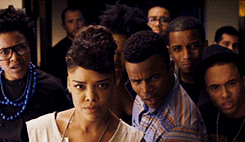 As far as I am concerned, I did just that and I was able to awaken something in myself that I was pretty sure had died. I mean, I can remember being depressed my Freshman year in college because I felt like, "Damn, I used to be somebody." So, it was just amazing to know that those leadership qualities and that bold, courageous spirit was still within me.
I didn't write this to save face or do my version of the Kanye West/ Taylor Swift debacle, but I wrote this to encourage people to follow those urges because maybe someone is trying to show you something or there is a bigger experience in store.
We can not fear failure and I know, in the past, I have been guilty of that. In high school, for instance, I know that I would not have entered into something that could potentially embarrass me. I just wouldn't. My ego couldn't take it and my heart wouldn't allow it. Whereas, now, as a young woman, I welcome it because nothing builds character and makes you more hungry than a public "L".
I was once told, " If you can not accept losing, you can never win."
Losing is essential. The more you lose, the more you want to win. You may have to lose some battles to win the war, plain and simple.